The Label Experts at Dec-O-Art strive to support the community they have called home for the past 50 years of operation. The family-owned company chose to contribute to the Make-A-Wish Foundation's local chapter to support the organization and make an impact on our community.
Dec-O-Art, the ISO Certified label and decal company, created an employee-driven donation strategy and the team elected for Make-A-Wish to receive a contribution of $25,000.
The Make-A-Wish Foundation has the mission to fund and create life-changing wishes for children with critical illnesses. The organization informed Dec-O-Art that in Elkhart County there are twenty-eight children waiting for their wish to be granted. Some of the children's wishes include going to Disney World, traveling to Charleston by train, or going on a Pokémon shopping spree. Dec-O-Art is honored to be able to provide the funding for wishes to be granted to children in our community. Owner of Dec-O-Art, Ron Dosmann, along with Owner and President, Nathan Dosmann, represented the company to announce the contribution and offer the check to the Make-A Wish Foundation.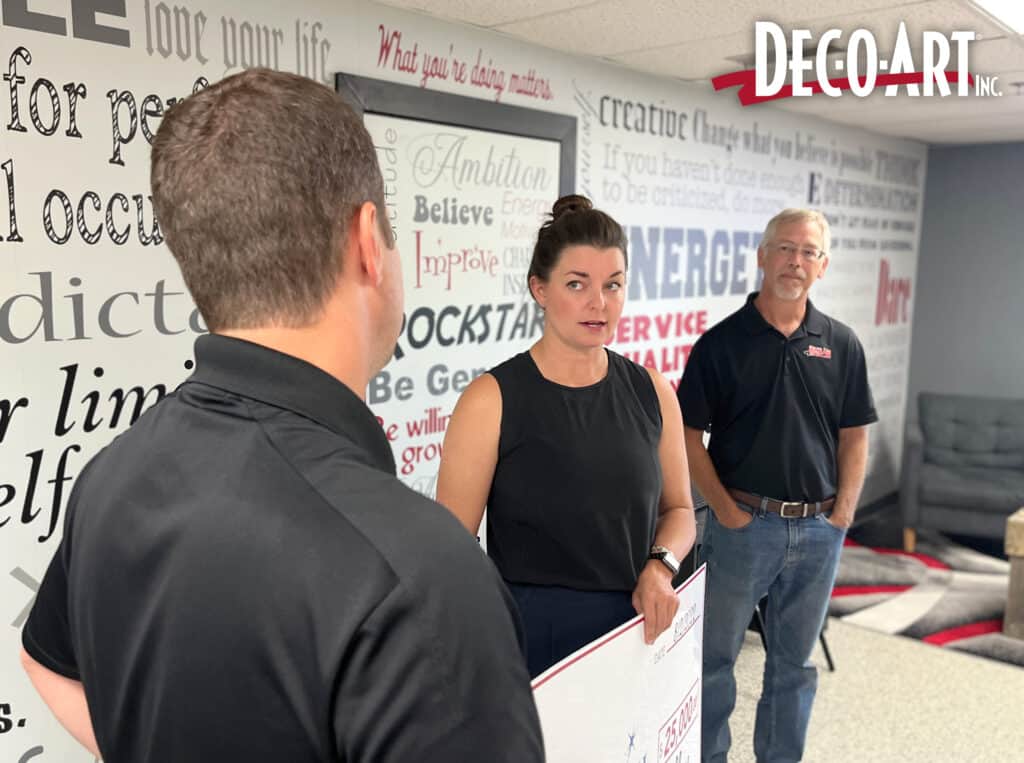 "Dec-O-Art wants to present your organization with $25,000 to help support your cause, so that kids can experience their wishes. Hopefully, several children can be impacted by the donation that our team has decided to give to Make-A-Wish," explained Nathan.
Joining Dec-O-Art for the donation presentation was Make-A-Wish's Financial Advisor, Lyndsay McBride Hemmick. She was overwhelmed with gratitude and mentioned how impactful the Dec-O-Art donation will be to the organization.
"There are twenty-eight children in Elkhart County waiting for their wishes to be granted while they are going through the hardest time in their life. Make-A Wish Foundation and the community has the opportunity to get behind them and pass along the gift of experiencing a wish for these children," stated Lyndsay.
Each wish costs approximately $10,000. Lyndsay said that the Dec-O-Art contribution will grant two to three wishes for the children and their families.
Make-A-Wish offers several ways to get involved including fundraising, volunteering, partnering, adopting a wish, and more. If you would like to learn more about Make-A-Wish Foundation, visit https://wish.org/
For more than 50 years, Dec-O-Art has helped provide exceptional service, decals, labels, and branding solutions to local and world-wide manufacturers, and quickly became the premier source for all labeling and branding needs. Find out how Dec-O-Art can help brand your business, visit www.dec-o-art.com.