The label manufacturers located in Elkhart created an employee-driven donation strategy and the Dec-O-Art team elected for The Center for the Homeless to receive a contribution of $25,000.
The Center for the Homeless is the largest residential facility for anyone experiencing homelessness in South Bend. The organization has been helping our community since 1988. During that time, they have served more than 65,000 individuals in need. Their important mission is to break the cycle of homelessness.
To conquer their goal, they provide their guests with programming and resources, like comprehensive education and job training programs for adults. Dec-O-Art has recognized the extreme impact that The Center for the Homeless has locally. Because of this, they have donated to the non-profit for over thirty years. Owner of Dec-O-Art, Ron Dosmann, along with Owner and President, Nathan Dosmann, were eager to continue the support for The Center for the Homeless and present them with a $25,000 donation.
Accepting the donation check on behalf of the Center for the Homeless was Steve Camilleri, Executive Director, and Taya Chapman, the Chief Development Officer, for the non-profit organization. Both Steve and Taya were exploding with gratitude for the donation and described the impact that the contribution will have.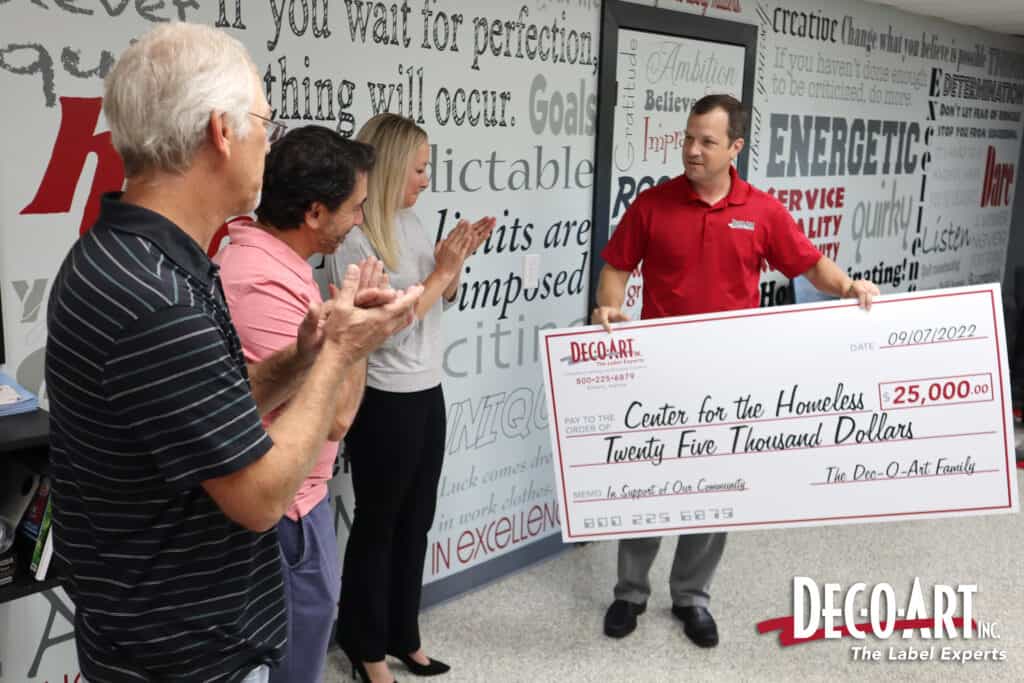 "I promise you this donation makes a difference. With this donation, you are giving hope to the guests at the Center for the Homeless. We just want to thank you and express your gratitude for really making a huge difference." exclaimed Steve.
The Center for the Homeless plans to utilize this donation to help finance upcoming fundraising events and to remodel their Veteran's Center, which is home to over twenty military veterans.
There are multiple ways you can help and get involved with the Center for the Homeless. The organization is accepting of monetary donations and joining the volunteer team. To learn more, visit www.cfh.net/donate.
For more than 50 years, Dec-O-Art has committed to our values of service, quality, and community. We believe your product deserves the best. Our premier source of labels and branding solutions reflect that. Find out how Dec-O-Art can help with any of your business's branding needs, visit www.dec-o-art.com.