For more than 50 years, Dec-O-Art, has called Elkhart their home. The company has three core values: service, quality, and community. To support their commitment to the community, Dec-O-Art created an employee-driven donation strategy and the team elected for National Multiple Sclerosis Society (NMSS) to receive a contribution of $12,000.
NMSS is a nonprofit organization that pursues their mission to help end multiple sclerosis (MS), the disease that impacts the brain, spinal cord, and optic nerves. Thus far, the organization has improved the diagnoses time, funded research for prevention and treatment, and positively impacted the lives of the affected individuals. Seeing the incredible value of the nonprofit, Dec-O-Art, awarded them with a donation. Owner of Dec-O-Art, Ron Dosmann, along with Owner and President, Nathan Dosmann, presented the donation to NMSS on behalf of the company.
The Indiana NMSS Development Manager, Amy Treber, was present to receive the donation. She accepted the $12,000 check with an exceeding amount of appreciation and informed the group of the level of impact the donation will have for the organization.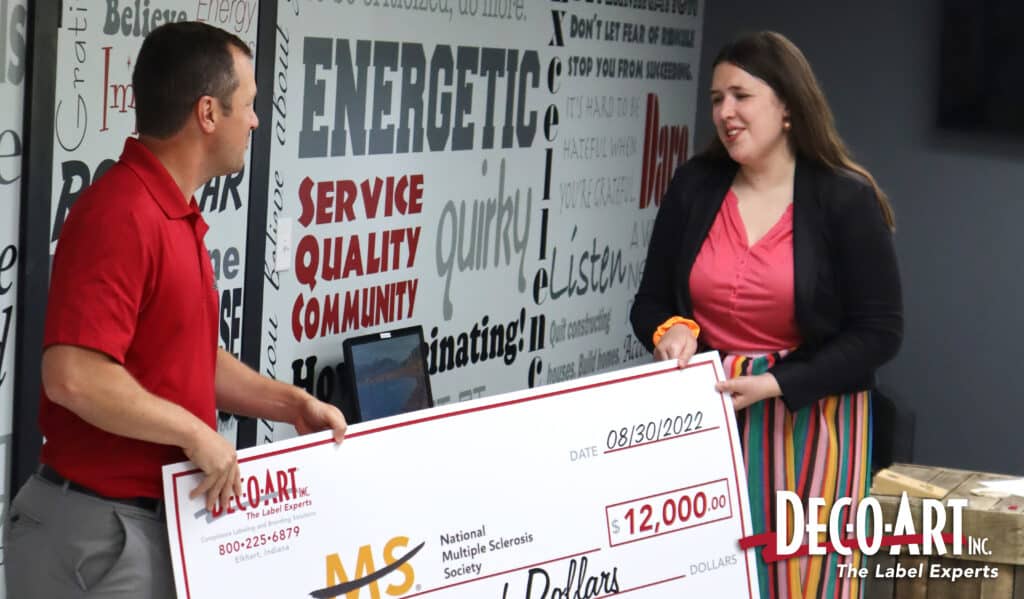 "The National MS Society is the leading organization in striding towards the end of MS. While The Society's mission is to end MS, we know there is more work to be done before we get to that milestone to make sure that everyone living with MS and their caregivers live their best lives. The Society funds research to stop, restore and end MS, hosts virtual programming, and provides resources such as our MS Navigator program.  With partners like Dec-O-Art, the National MS Society can be a support system for the one million Americans living with MS at all points of their MS journey." Amy stated.
There are several ways to get involved with NMSS including fundraising events, volunteering, partnering, becoming an MS activist, and more. If you would wish to support their mission or learn more about the organization, visit https://www.nationalmssociety.org/Get-Involved.
At Dec-O-Art, we believe your product deserves the best. For more than 50 years, we've committed to our values of service, quality, and community. Our premier source of labels and branding solutions reflect that. Find out how Dec-O-Art can help brand your business, visit www.dec-o-art.com.